Designing for Web with Accessibility in Mind
Complete Website Design and Build
A Website Redesign for an Industry Leader in Vision Loss Support Services
VisionCorps is a leading non-profit organization in Pennsylvania, on a mission to empower individuals who are blind or vision impaired to attain independence. They do this by providing support, education, and care to those who are facing vision loss, as well as by providing employment for vision-impaired people through their own commercial enterprises in manufacturing, food processing, and administrative services.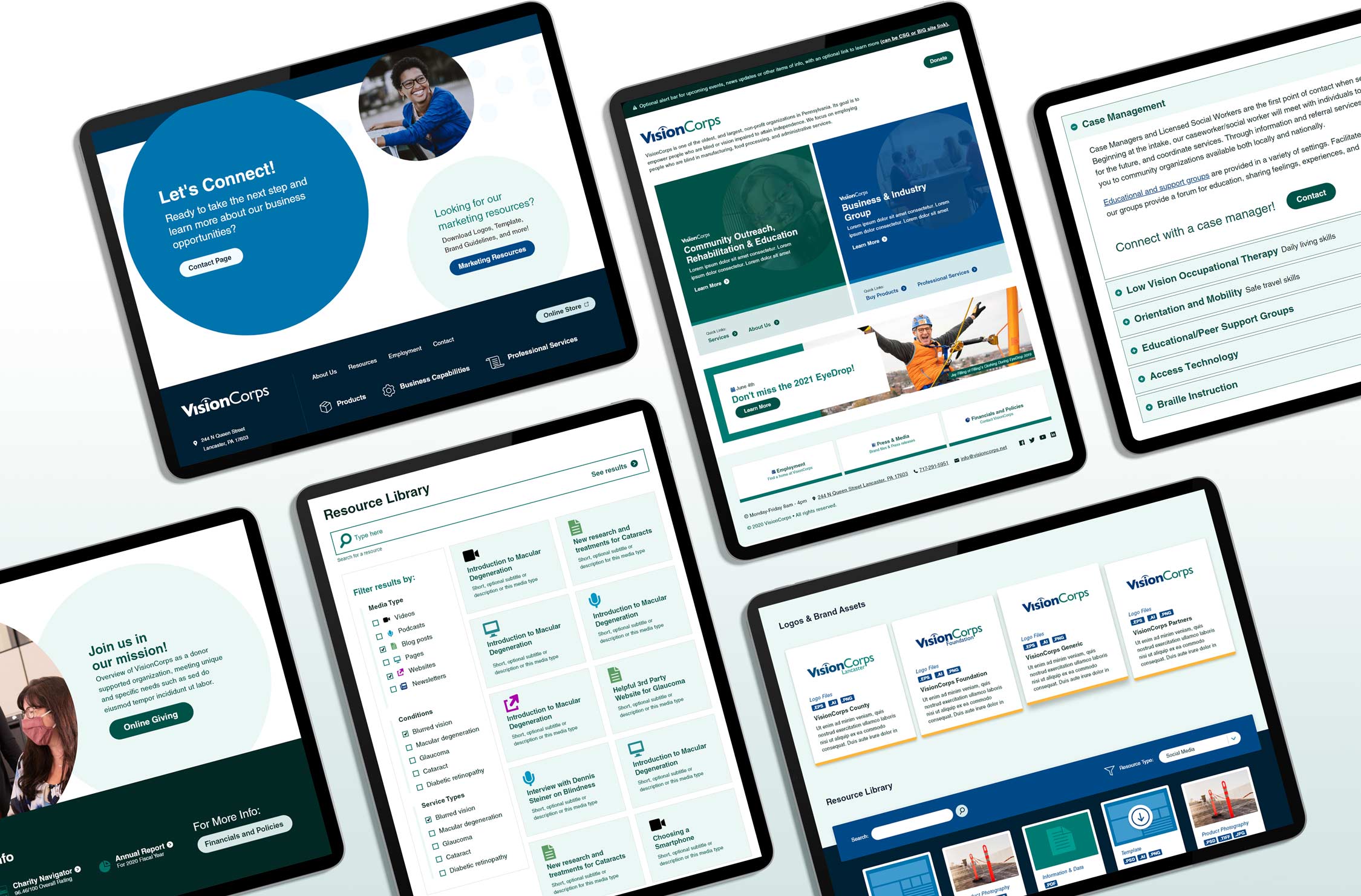 The Challenge
The VisionCorps website overhaul presented several unique challenges that required strategic planning and thoughtful solutions. The first being a need for cohesion and uniformity across their many services, initiatives and subsidiaries. Within these arms of the organization, it was also important to identify the very diverse audiences that would be interacting with the website, and tailor the experience to their needs, whether that be a person dealing with vision loss, a potential community partner, donors, corporate service clients, and everything in between.
Laying Groundwork: Establishing Two Sister Platforms
VisionCorps' online presence is split into two separate websites - one for their community services and one for their commercial enterprises. To create synergy and clarity between them, we spent long hours working through strategy, user personas, and customer journeys. We believe the greatest sites are built on a strong foundation, and this was a paramount example.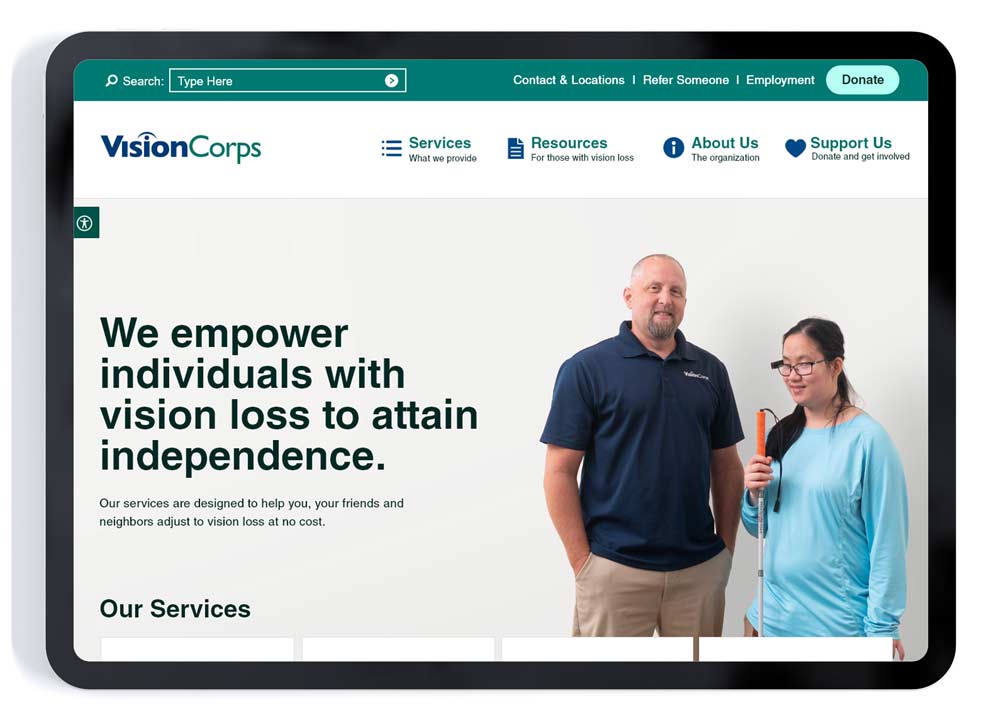 Community Services: Inpsiring awareness, empathy and engagement
At a fundamental level, we approached this site as a marketing and awareness tool. Our objective was to communicate a message that spoke powerfully on behalf of VisionCorps' mission, while simultaneously showcasing how they serve our community.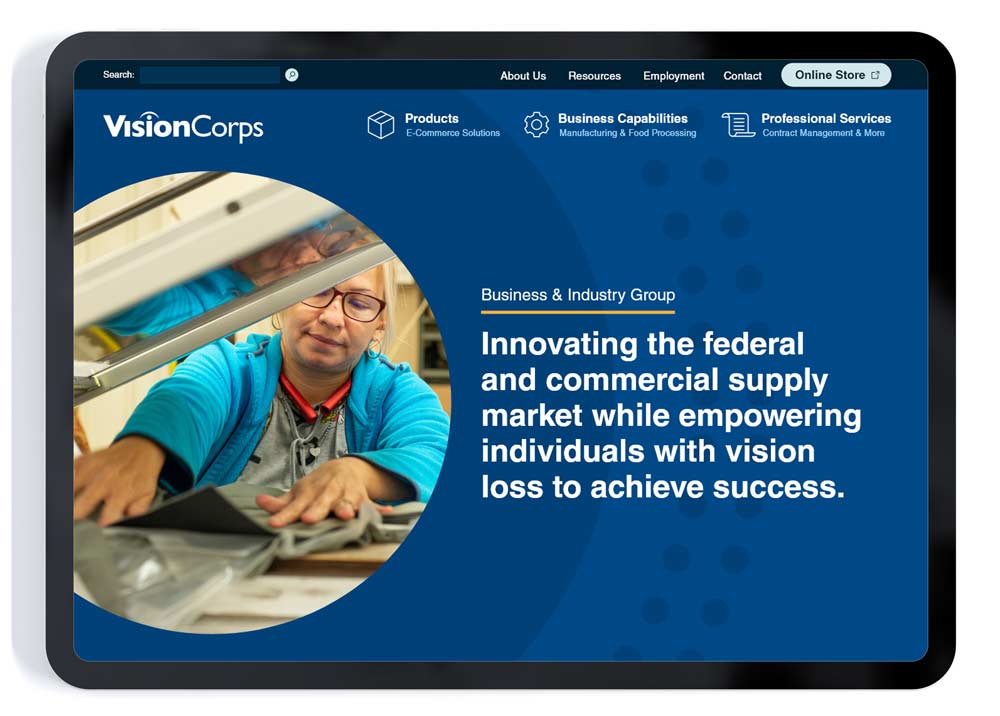 Professional Services: Positioning VisionCorps as a capable partner
The professional services website is a space to boast the organization's potential as a partner for large government and corporate entities looking for smart business solutions. Site look, feel, and content, speak to a superior level of excellence.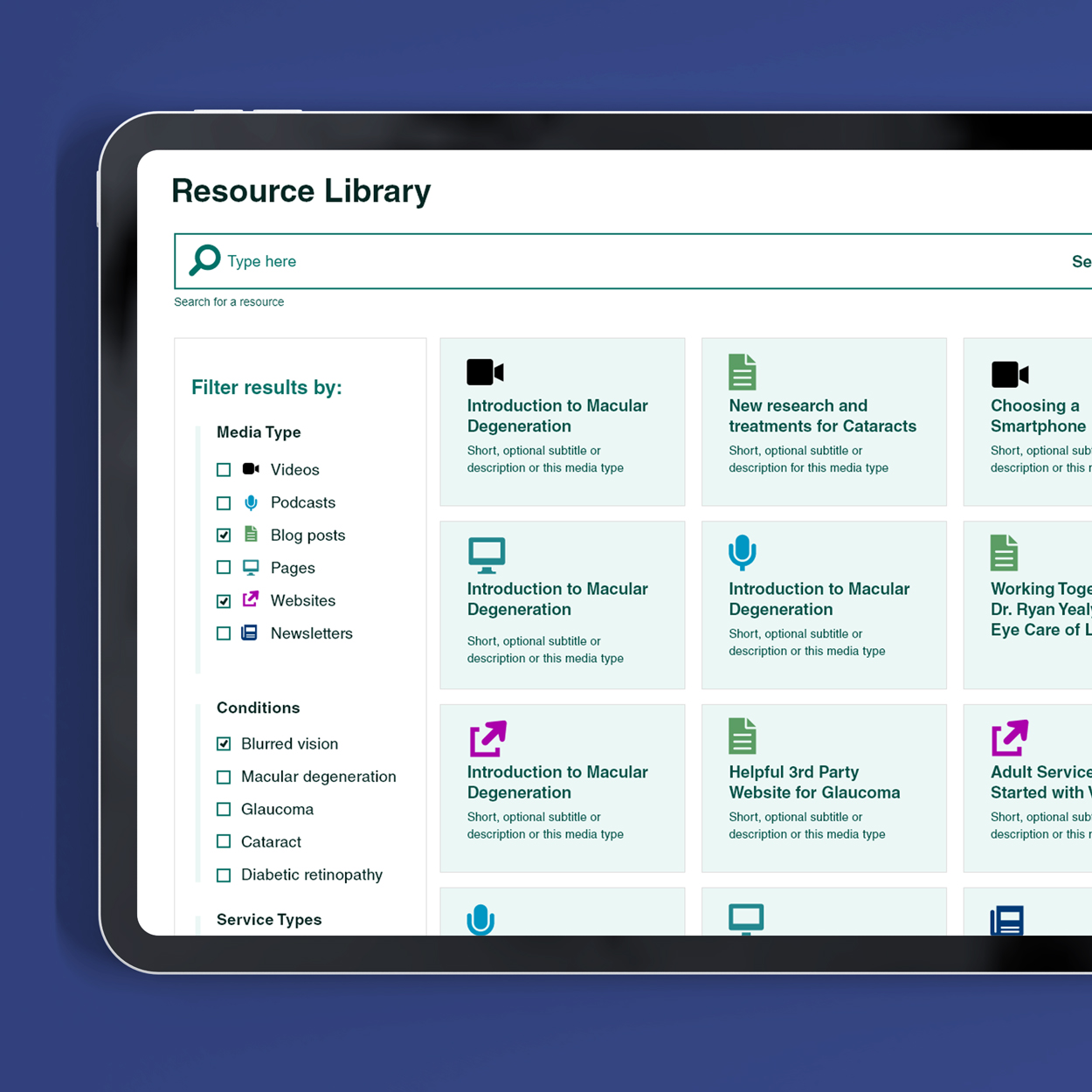 Resource Libraries
Two well separate resource libraries were created for each website, hosting educational videos, podcasts, blog posts, and links third-party websites, as well as logos, marketing materials, photography, etc. - filterable and searchable.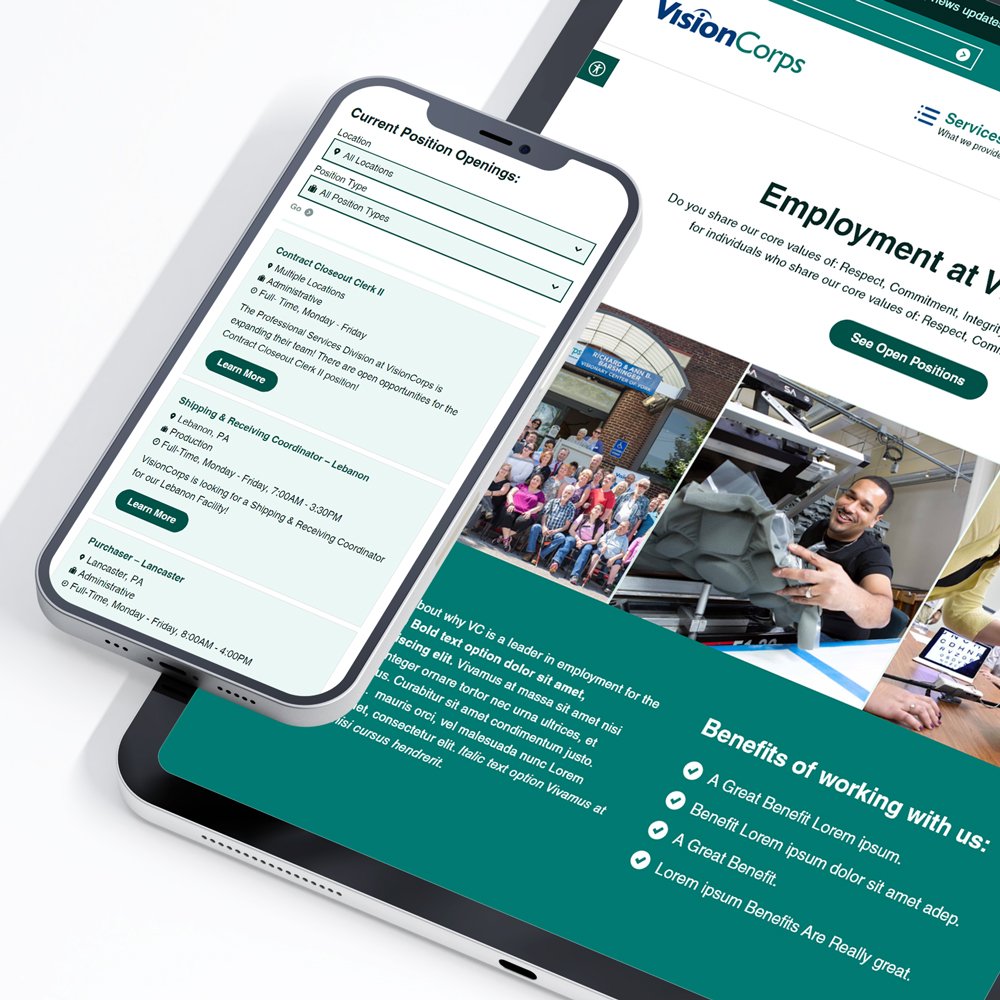 Employment Hub
The VisionCorps site also included a central location for information for potential employees, presented in a mission-oriented format, with a filterable list of job openings that allow potential employees to find the right fit.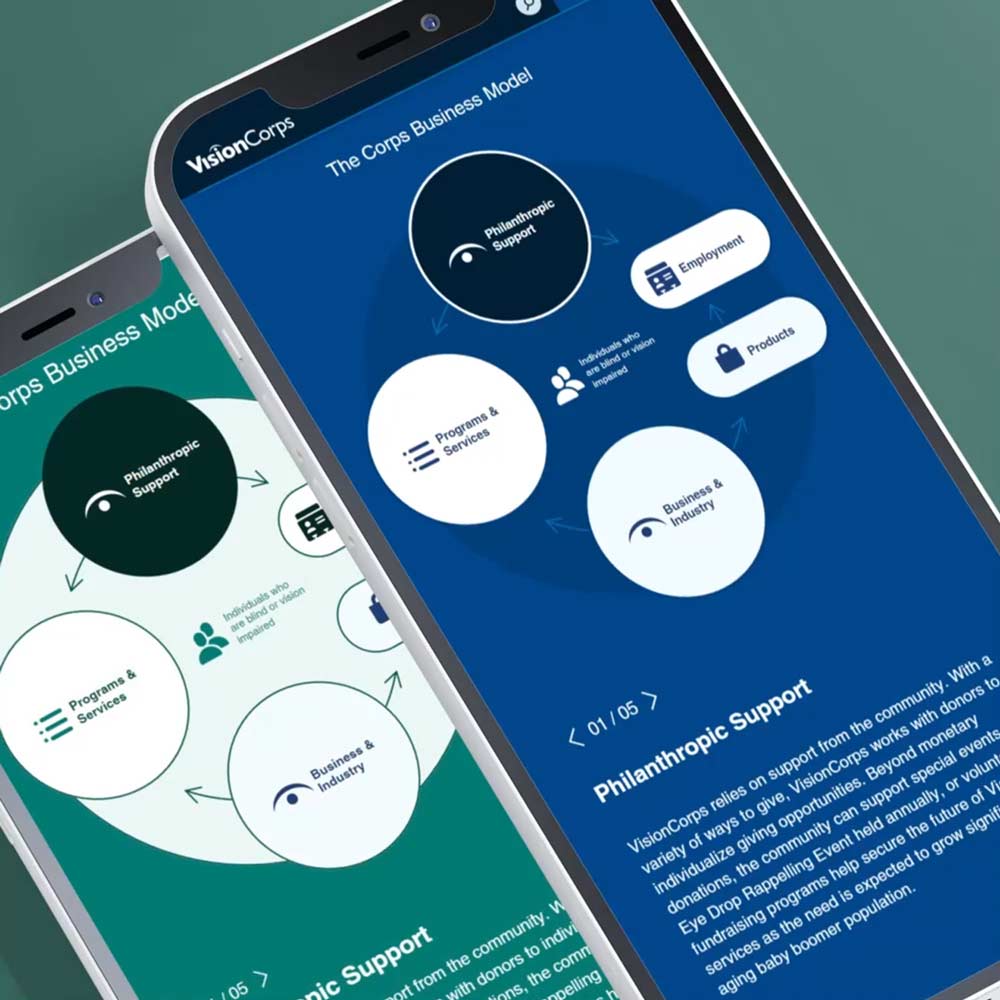 Interactive Infographic
We developed a visual and engaging representation of the VisionCorps business model, paired with text descriptions and more traditional navigation options for users who may not be able to use visual elements or non-traditional navigation tools.
WCAG 2.1 AA or AAA Compliance
While we always observe best practices, it was critical that the VisionCorps site was held to the highest standards of accessibility design. Success meant that all technical components of user interface, development standards, and content population practices achieved WCAG 2.1 AA compliance at a minimum, and AAA in specific cases, to ensure the best visual browsing experience for those with partial vision loss.
We created a widget to assist users with impaired vision, including high-contrast modes, text scaling, inversion, color filters, and more. These tools, while able to serve vision-impaired web users, also act as an educational opportunity to sighted people, helping create empathy and understanding for what barriers and hurdles exist in everyday life.
Positioned as a leader.
VisionCorps' is positioned online as an industry leader—experienced and strong. This brand equity is equally balanced with an emphasis on genuine care and investment in the values and mission of the organization throughout the site, helping the heart of the organization to be felt, not just understood. Through the introduction of a stringent language guide, tasteful visuals, analytical rethinking of site infrastructure, and creative implementation of brand assets, we thoughtfully crafted this online experience to achieve the highest level of usability for all visitors and visibility for VisionCorps' message.
In short, we do great work and we're great to work with.